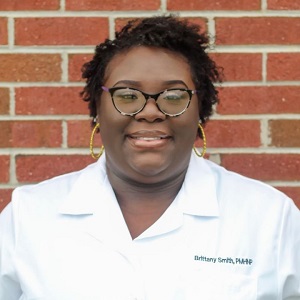 Brittany Smith, PMHNP-BC
You owe it to yourself to feel your absolute best. As a board-certified psychiatric nurse practitioner, I would love to assist you with accomplishing that goal. Whatever your culture, ethnicity, or social economic background, LIFE happens to us all. I believe that mental health should be a team effort as therapeutic relationships have been proven to be effective with improving life quality.
As a Psychiatric Nurse Practitioner who specializes in Depression, Anxiety, and many other mental health conditions allow me to partner with you to overcome the issues you face while developing your strengths. My passion is to assist you with improving your quality of life, family dynamics and/or community dynamics. My goal is for you to heal mentally so that you can flourish holistically. Let us work as a team to navigate life's challenges through therapeutic communication and medication management. We can walk on the road of recovery to healing and wellness together.
Additionally, I have over 10 years of experience and training in a variety of medical settings as a registered nurse to include community, inpatient and outpatient settings. Within my experience I have been privileged to service both Military and Civilian individuals. I also have experience working with families. My training has allowed me to work with children, adolescents, and adults. 
I am confident that my previous roles providing mental healthcare have shaped me into the open and empathetic psychiatric provider that I am today. I look forward to collectively partnering with you towards positive mental wellness.